WHAT IS A SPL TOKEN
SPL Token is the term we use to define Solana tokens, used for different functions and utilities. SPL is Solana's standard token, analogous to the ERC-20 tokens on the Ethereum Blockchain.
The best known and most important is SPL Token is SOL, the governance token of the Solana Blockchain, used as a payment currency, transfer of value, execution of contracts or participation in the governance of the network.
The term SPL means "Solana Program Library", that is, SPL Token means token that comes from the Solana program library, which follow certain standards.
Before diving about SPL Token we must know more about Solana.
WHAT IS SOLANA
Solana is a layer 1 blockchain, that is, it is not derived from any other chain. The Solana Focus is fast transactions with practically non-commissions, in order to achieve mass adoption of cryptocurrencies.
A key point in the success of Solana is the use of the PoH protocol, that is, "Proof of History". Basically, Solana made an innovation from "Proof of Stake" allowing the verification of transactions without the need to resort to a conventional time register. This combined with the parallelization of its transactions (processing of more than one transaction at the same time) makes it have this differentiating point.
Another important point is that solana is an open source platform, based almost entirely by rust (programming language, which allows developers like us to efficiently create and run decentralized applications and smart contracts).
NFT AS THE KEY OF SOLANA
If there is something that represents Solana and his community, it is NFT collections. They are simply what has most attracted investors to the Solana Blockchain is the great community and the incredible hype that has been created around NFT projects with incredible returns.
And you will wonder, what relation does this have with SPL Token? The answer is simple, the popularity of these projects is linked in many cases to utilities, which practically always include an SPL Token "governance" of the project.
Some of these tokens have crossed borders and are widely used, such as the example of DUST.
HOW TO BUY SPL TOKEN
If you want to buy a SPL Token you have the opportunity to do so on different exchanges or DeFi trading platforms. This will depend on the SPL Token in question, as some are listed on these sites and some are not.
The most used pages in relation to Solana are Raydium and Orca. Although if you want to buy SOL to get into the blockchain you can go directly to an exchange like Binance or Crypto.com.
THE MOST FAMOUS SPL TOKENS
SOL (Solana), the flagship token of the Solana blockchain
AR (Arweave), Arweave is a key project at Solana, as it is used as the "cloud" for NFT images
AURY (Aurory), P2E game, a classic of the Solana Blockchain
BONK, it is simply a meme token as DOGE or SHIBA
DUST, without any doubt the most important token within the NFT Solana market, token from DeGods collection
SPL TOKEN AIRDROP
Some of the most common uses for Solana tokens are Airdrops. These airdrops can be due to different reasons and different types of recipients, although they are usually made to the holders of certain NFTs or certain tokens.
If you want to make an airdrop you have two options, you can hire a team of developers like us (contact us here) or use any software that does this function, I personally recommend the SPL Token Airdropper from soltoken.io, it is the best at the price level such as speed and security.
If you want more details about token airdrops in solana click here.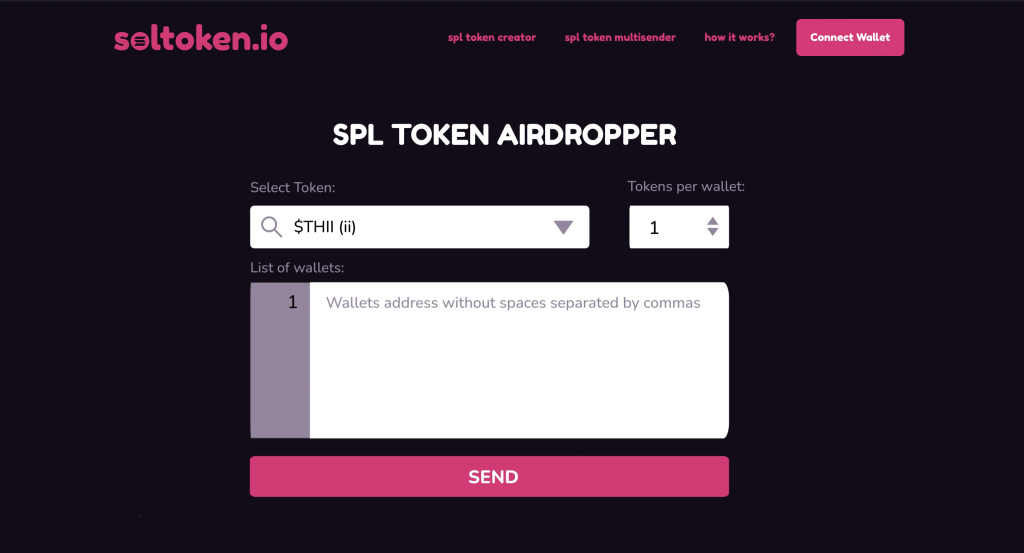 BURN SPL TOKEN
Another highly demanded action in relation to SPL Tokens is their burning, since by burning these Tokens we can receive SOL in return.
This SOL comes from the "storage fee" of the SPL Token in question, so it is completely safe to do so.
You can burn your SPL Token using the CLI (you'll need some coding) or in a dApp that does it for you. Once again we recommend the SPL Token Burner from solincinerator, for security and speed it is undoubtedly the best Solana incinerator we can find.
HOW TO CREATE A SPL TOKEN
If after this you want to have your own Token in Solana you will be interested in this. Create your SPL Token is not as difficult nor expensive as you can imagine.
You can either do it with CLI (you'll need some coding) or you can do it in a tool that does it for you (we recommend using this tool from soltoken.io). Click here for a full post with the step by step tutorial with both methods on how to create an SPL Token.
SPL TOKEN FROM SOLANA
All you have seen are some basic notions and key information about the SPL Token:
If you are an investor in solana you know everything you need to know, keep your wallet safe and good luck with your investments.
If you have an NFT project, it's time to take action and get the best benefits for your community thanks to SPL Tokens.
If you are a developer interested in Solana and into the SPL Token and the Solana standards, they are the main base of the blockchain.
Thanks for reading, have a nice day!